The Perfect Diet Tracker has been updated!
If you are using the trial version, or purchased a copy of the Perfect Diet Tracker through this website the new version is available from our download and update pages right now.
If you purchased the Perfect Die Tracker through the Mac App Store, the new version is currently with Apple and 'in review'. As soon as it is approved the App Store will let you know an update is available.
Whats new in this version…
– Expanded food database to over 85,000 items.
– Bug fix: Issue displaying weight chart when entries prior to 1985 are added, fixed.
– Bug fix: Duplicate notes, fixed.
– Enhancement: Faster internet food searches.
You can also use the download buttons to the right to obtain the new version now.
The first release of the Tracker2Go mobile app is now available on the App Store for iPhone and iPod Touch users.
This is the first release, and to simplify the review procedure this release does not contain the sync feature to let you sync with the Perfect Diet Tracker, but fear not, it is coming!
We are also progressing well with the iPad and Android versions of the App, and these should be available soon!
In the meantime, if you want to take a look at the new Tracker2Go App, you can download it from the App Store.
The Perfect Diet Tracker is now available in the Mac App Store, so if you have a Mac running Snow Leopard you can now buy the software through the store.
Both the Perfect Diet Tracker available through the Mac App Store and here have identical features, however there are currently three key differences:
We hope you had a great Christmas and New Year.
Here at Byoni, as you would expect the new year is one of the busiest times of the year as a lot of people look at going on a diet to lose some weight.
What surprised even us is looking at the Apple downloads site this morning, apparently more people were downloading the Perfect Diet Tracker than Google Earth!
Its not something we expect to continue, but it was nice to see!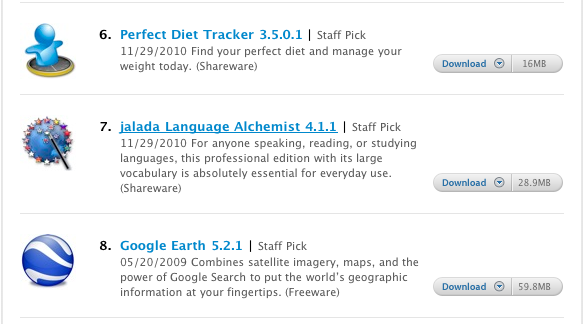 The Perfect Diet Tracker 3.5.0.1 update is now available.
This is a minor update to correct a couple of small issues caused by code changes the large 3.5 upgrade.
The download is available at both the main download, and the upgrade pages now.
Version 3.5 of the Perfect Diet Tracker is now available for download from our software update and download pages.
This update contains a significant update to the core engine behind the software, and the file structure used by the application.